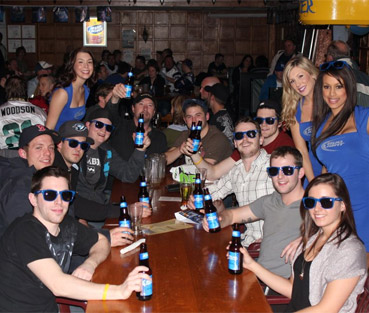 Opening its doors in 1949 as the Lord Nelson Tavern, Oasis is now Halifax' oldest tavern. In 1963, the Lord Nelson Beverage room AKA Ladies Beverage Room or LBR was opened. It was the first beverage room in Canada, which allowed women in without an escort and allowed the ladies their own space*. In fact, for a male to enter the LBR side they had to be escorted and invited over by the women in attendance!
Located in the heart of downtown at 5661 Spring Garden Rd for nearly 75 years, our loyal and legendary bartenders Norm and Louis, have been serving students and locals alike for 90+ years combined.
Halifax' Undisputed #1 Sports Bar and your home for UFC, NFL, NHL, NBA, MLB, OHL, NCAA & more. We're the only sports bar in town committed to giving you your sports fix!

Shuffleboard, Pool, Darts, Foosball, Arcades, Ping Pong & more. Come join us for some of the best pub food in the city, our famous $13.49 +tax pitchers and laugh or sing along on Trivia, Comedy & Karaoke nights!
Call or email now to book your event! 
*Lord Nelson Beverage room acquired the licence on Aug 20th/1962
 *The Liquor Control Act of 1961 set up a liquor licensing board and retained local option provisions for adding (but not removing) government stores in a municipality. Local option, common in other regions of Canada, was the Rowe report's concession to the temperance forces. In licensing areas without licensed premises, the earlier plebiscite rules applied and the onus for initiating a vote rested with wets, not drys. Where voters had previously endorsed licensed premises, no further votes were required for additional businesses. The tourism industry scored one victory: resort hotels that catered primarily to visitors were exempt from local option. The amendments also broadened the variety of on-premise licences: clubs, taverns, beverage rooms, restaurants, dining rooms and lounges. The age of the cocktail lounge had finally arrived. Women, furthermore, could be admitted to "ladies beverage rooms", separate sections in taverns for women and male escorts. Beverage room licences were granted only to hotels. The first beverage room opened in 1963 in Halifax, and by 1970 the number had crept up to three. The Rowe commission had recommended against this last change, but had urged the licensing authorities to improve the atmosphere of taverns, which under the 1948 regulations appeared to have been designed "exclusively for drinking"
above quoted from https://journals.lib.unb.ca/index.php/acadiensis/article/view/10694/11387